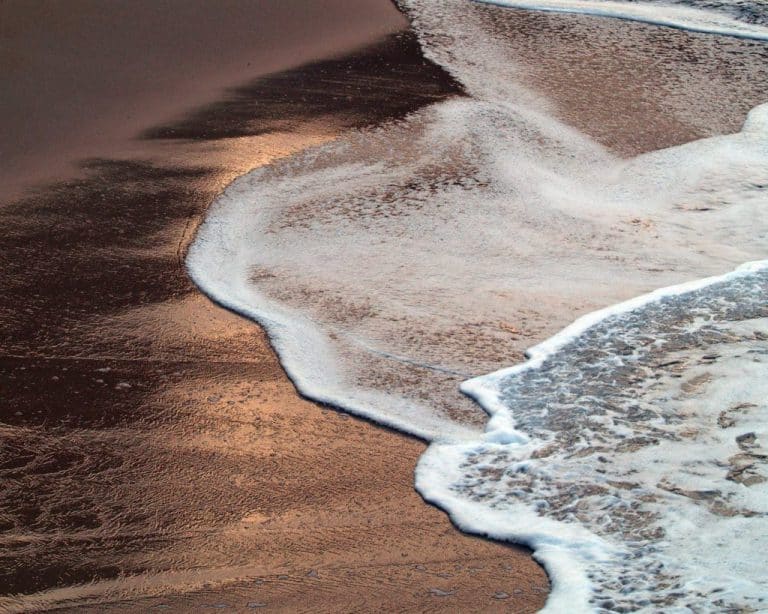 Zen meditation means attaining our True Self. In this way, we can say that meditation is about "returning": Returning from this hectic world of thinking, over-thinking, and blind, unfocused desire (appointments, deadlines, stress and worries, memories, fear) to the place of perfect stillness before thinking arises, sometimes called "true nature," "true self," "original nature," or "don't-know mind."
Zen is the simple action of letting our present attention — that is, when left to habit, often constantly following our thoughts — just return naturally to this moment, its original home. Letting it settle here, watching our breath, inhaling and exhaling, like the movement of ocean waves, we return to our original boundless awareness.
So, Zen is not special. When you walk, only walk. When you eat, only eat. Salt is salty; sugar is sweet. It's very simple. But understanding this is not enough: we must attain this point in order for it to function effortlessly in our lives.
In order to attain the point of Zen, it is very helpful if one builds a consistent daily practice, especially in the beginning. In this tradition of Zen, we rely on the large practice-technologies of sitting meditation, walking meditation, chanting meditation, and bowing. Let's now talk about each one of these in some detail:
Let's say that you want to take a nice photograph in poor lighting. This is called taking a "long-exposure" photo. For that, you need a good camera, but you also need to establish this camera on a stable tripod. If you do not set your camera on a good tripod, then even if your camera is very high-class, very expensive, it will be shaky, and it will not catch a clear image.
The same is true of our lives: always moving, moving, moving, coming and coming from thought to thought, and from situation to situation, we do not rest long enough to "catch" a clear insight into our mind. Sitting Zen is the basic tripod-posture for taking a long-exposure photograph of our life.
Here are some basic instructions for sitting Zen:
Walking meditation is a very good, practical (and healthy!) method for bringing the power of sitting-practice into our everyday lives. Follow the group with the speed — not too slow, not too fast. Eyes are relaxed, gazing downward and in front, not sightseeing around the room.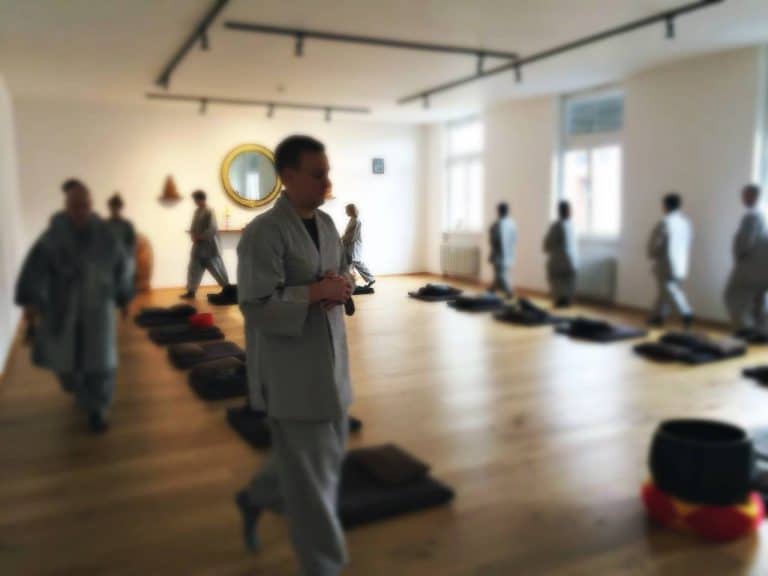 Carry your hands in front of you, at about belt-buckle level, fingers interlaced, so your arms don't swing back and forth. This brings natural, soft attention down through your fingertips into your "center," or dan jeon/hara, the energy-point of our breath-roots located just below the navel.
Except for some unforeseen emergency, we only get up to use the bathroom during walking meditation. Just bow before leaving or entering the Dharma Room and remember your position in line, so you can enter there when you come back again. This keeps the appropriate mindfulness-atmosphere in the Dharma Room and among your fellow-practitioners.
If, due to some emergency, you need to leave the Dharma Room for the bathroom (or some other reason), you will not be permitted to re-enter until the next walking meditation period. This is done, well, for the very same reason that we are not permitted to freely come and go from a concert hall during a classical music program: only during intermissions. Constant movement disturbs the atmosphere, and encourages an unsettled mind to make more things to attach to, instead of listening to the deep "music" of our True Nature.
There are many technologies to Zen: sitting meditation, walking meditation, bowing meditation, mantra meditation, eating meditation, work meditation — why not chanting meditation? Every human culture uses the voice as a tool for people to gain deeper clarity and insight into their True Nature.
You will also learn how to meditate, while using your voice, which makes it easier to integrate the practice into the daily life.
Hyon Gak Sunim's Teacher, Zen Master Seung Sahn, gave an excellent explanation of chanting-practice in the  classic book, Dropping Ashes on the Buddha.
Here is a link to that teaching: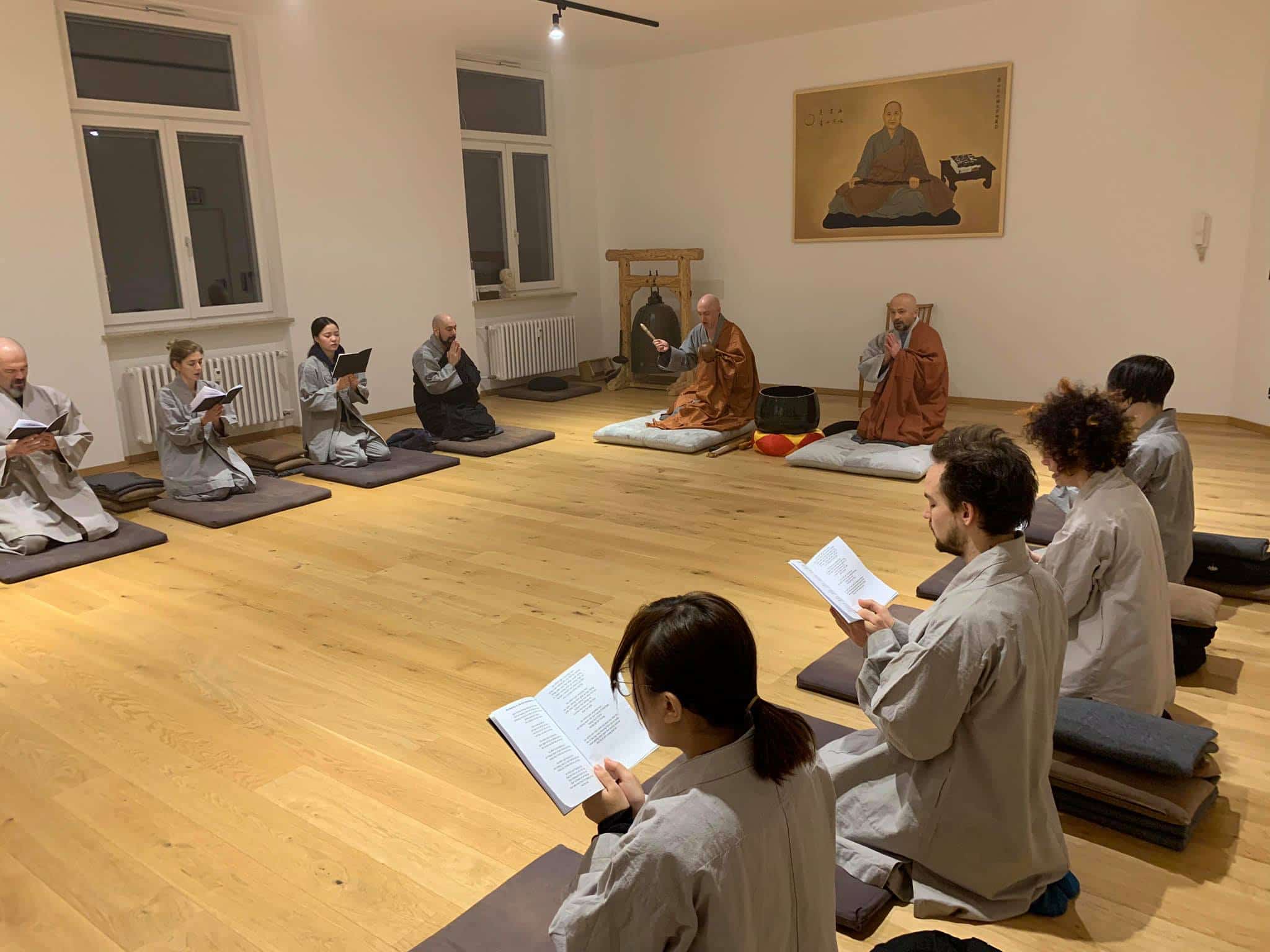 Bowing is a breathing-practice. It establishes our breathing low down in our center, out of the hustle-and-bustle of our thinking-heads. Bowing lowers the ego, and calms down the mind. As we lower our whole body to the ground, the chest is collapsed, and air comes out; as we stand up again, expanding our thoracic cavity, the air enters inward. That small gesture already helps to bring the mind into a more peaceful state. In bowing, my Small I bows to my Big I. It is not a religious or sectarian meaning.
This form around the practice might feel a little bit restrictive, but all of that is actually to free us. Giving up outer freedom to attain inner freedom.
If you don't know what to do during practice, just look around and follow the others.
Don't worry about doing a mistake. The only "mistake" in Zen practice is to hold your thinking, feelings, or opinions. This is true for life, for relationships with others, and so it is true for practice together in the temple.