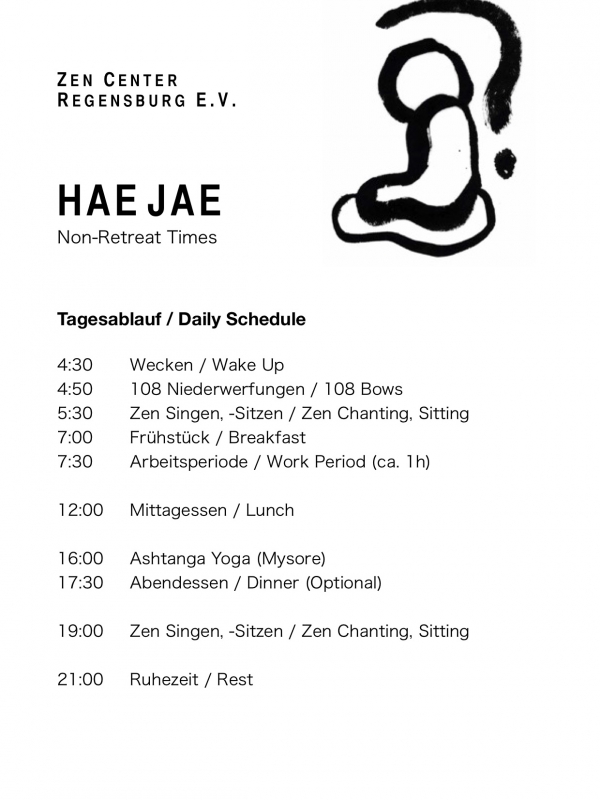 The Hae Jae ("loosened Dharma") period is, according to Korean temple tradition, the schedule outside of the bi-annual intensive retreat periods. Hae Jae provides more of an opportunity to practice in everyday life situations: work periods, periodic projects and special events are great opportunities to support the temple as well as use our Zen practice to do together-action as a community.
The monthly 3-day retreats happen every month during Hae Jae. No previous experience is required (see "Retreats" section), but we strongly urge those wishing to sit the monthly retreats first to attend several evenings' practice at the Zen Center. Short retreats are also useful for people with busy lives, who have difficulty taking time off for a longer retreat.
Based on the wisdom of the Patriarchs, Zen Master Seung Sahn has compiled a list of "Temple Rules" that we follow as residents of ZCR, and which serve as guidelines for our Sangha life. The "Temple Rules" are sent to prospective retreatants, along with a Registration Form, when they contact us through zen.center.regensburg@gmail.com.
Residential opportunities are also available for short- or long-term stays in the Zen Center.